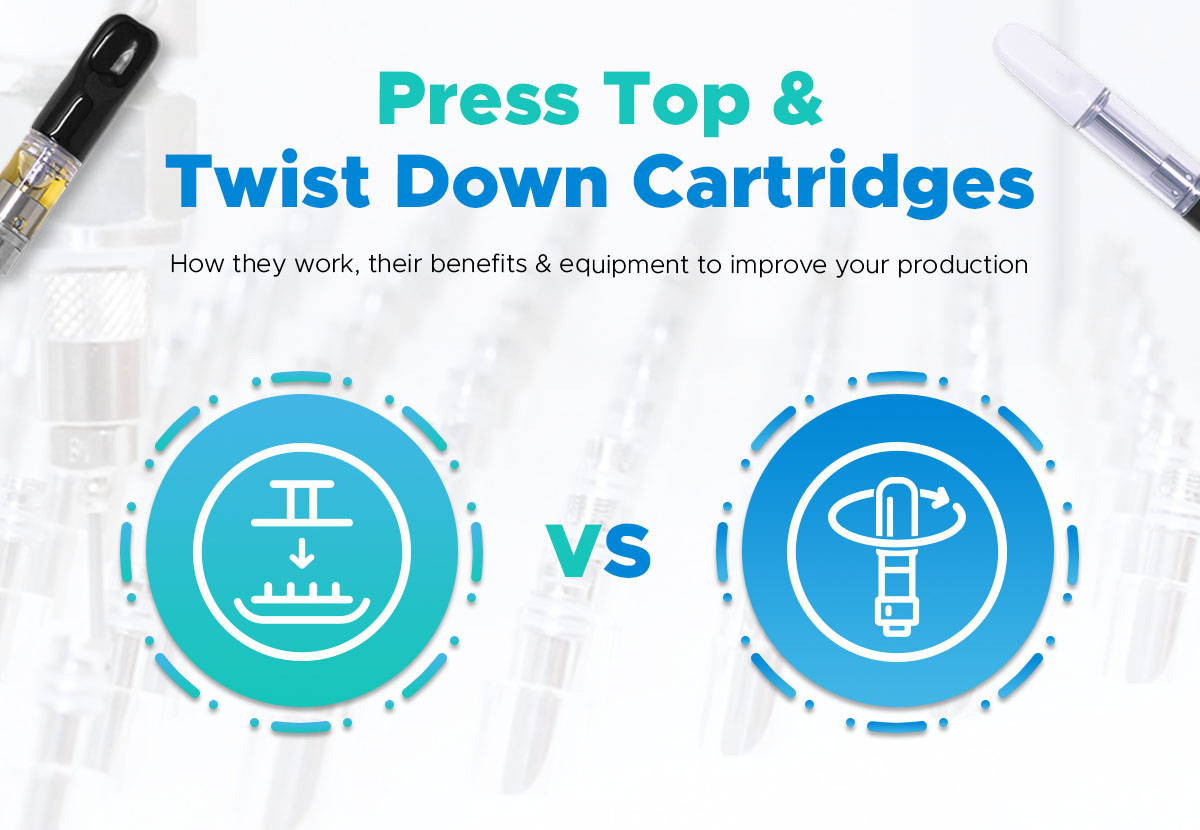 Are you looking to start your cartridge production, but the variety of product hardware options seem endless? Much like cannabis extracts, cartridge hardware is all made different. More than ever, companies are looking for high-quality products that adhere to the highest standards of safety while still optimizing their production flow. Perhaps you're wondering what option is best for your cartridge filling production, press top capping vs. twist down closures?
Here, we break down the difference between press top and twist down cartridges. The benefits of each and how they work. While also sharing reputable manufacturers and automation equipment we know and trust to enhance your overall production.
Capping Options
Press Top Cartridges:
What seems to have taken over the industry lately based on their ease of production and childproof safety, press top cartridges are as simple as they sound. Once the cartridge is filled, a mouthpiece is placed on the center post of the cartridge body. When sufficient pressure is applied to the mouthpiece, a flange or 'post' on the mating cartridge body deforms to the shape of the mouthpiece, creating an irreversible seal. This type of seal is known as a Child Proof (CP) seal and is required in many jurisdictions. Essentially, the cap will not come off unless someone breaks or damages the cartridge body. In addition, this type of seal eliminates aftermarket re-filling of the cartridge, which can be a hazard to the consumer.
Twist Down Cartridges:
Another capping option in the industry is the twisted-down cartridge caps. With this option, the inside of the mouthpiece has female threads to match the male threads on the cartridge center. After filling, the mouthpiece is placed on top of the threaded center post and tightened down, like you would a nut onto a bolt. This type of closing mechanism is more of a traditional capping application. Many consumers still prefer this option as there is the ability to re-fill the cartridge after use. However, this capping option cannot be considered 100% childproof and can create safety issues in the aftermarket.
Tools for production
While it is essential to understand both capping applications, businesses also need to look at the big picture. While the type of capping solution your business chooses has little to no effect on consumer experience, it does play a vital role in the ease of production.
Did you know for optimal cannabis oil filling, operators have between 45-120 seconds to fill and cap their product before leaking and oxidation issues can arise? Not meeting these fill and cap times could mean profound quality implications for your business, so it is essential to find an automated solution that will run efficiently for your product quality and volumes. With semi-automated filling and packaging machines, operators still have complete autonomy over the production workflow but no longer need to overexert themselves to get the job done manually. Consider these automated capping solutions for your cartridge production.
MonoPress:
Are you looking to remove the labor-intensive pressing that your operators perform daily? The MonoBlox could be the answer for your business. Efficiently fill and cap nine to fifty cartridges within 45 seconds, reducing leaking or compromised quality issues that can occur after prolonged exposure to air. Operators would have a hard time manually pressing cartridges caps as often time the force required to press down cartridges can range up to 100 pounds. With the MonoPress, operators place the mouthpiece onto the cartridge then let the MonoPress do the work. The machine applies the appropriate amount of pressure to press the caps down, locking them into place. Operators can remove certain parts of the tray to begin the capping process as the machine fills the rest of the cartridges. With this type of capping system, ease of production is at the forefront.
For more information on the MonoPress, click here.
ATG's Latest Development, The RoboTorq:
Are you looking for an automated solution for twist-down cartridges to keep up with your filling machine? ATG's latest innovation will be launching to the public very soon. This machine is perfect for those familiar with ATG's RoboCAP. The RoboTorq is a tool that you add to the same base RoboCAP, in which the filling nozzle is easily swapped out for a RoboTorq at the end of the arm. The RoboTorq system works by utilizing a locking plate, custom-made to hold your cartridge while the mouthpiece torquing occurs, and a custom mouthpiece tool bit (approx. 700 an hour per head, up to 2 heads per robot). Not only does automating the process allow for fast outputs, but it reduces the risk of injuries for operators who are usually required to twist on each mouthpiece manually.
Sign up to be the first notified when our RoboTorq officially launches.

Manufacturers:
Now that you have a better idea between the two capping options and what type of automation is required, what's next? Finding a hardware manufacturer that guarantees a level of excellence in both quality and customizability for your unique business can pose a challenge.
Visit their websites for information:
Jupiter / CCell AVD Verified Greentank Blinc Group
Conclusion:
Deciding between the two types of hardware and production that go along with it can be challenging. What businesses should consider focusing on to make their decision is how they plan to run their production. Are you looking for ease of production? Perhaps press top caps are more favorable. Or maybe, you already have your RoboCAP and hardware and need a faster solution to cap your twist down than manual. The RoboTorq is your best option. The key to a successful production has the right tools to support your product line and operators. With packaging automation, you can rest assured all caps are securely closed, limiting the risk of leaking, which can create more significant problems such as returns or product recalls. Both capping automation tools will limit these risks and ensure maximum profit.