Cannabis products come in many forms – dried cannabis, as well as vape cartridges, capsules, gummies, topicals, and more – each varying in formulations, dosing, and, depending on where they're produced, quality and regulatory standards.
As the cannabis industry grows, cannabis consumers are expanding their interests from the indica-sativa debate, past basic cannabinoid conversations around THC or CBD, and into discussions about desired cannabis product effects, innovative formulations, and accurate dosing. When it comes to packaging cannabis for sale in the legal medical or recreational cannabis markets, it doesn't matter what your product is, nor does it matter what state, province, or country you're in – standardization of your product matters to both consumers and regulators and saving time while keeping compliant is key to gaining market share.
What cannabis consumers want
The legal cannabis industry is built on very strict guidelines and with good reason. Cannabis is legal in only some jurisdictions, and what consumers can access depends on what's available in their market.
Cannabinoids and Regulations
The two cannabinoids that attract the most attention are THC and CBD, the former for its psychoactive 'high' and CBD for its purported therapeutic effects. Packaging regulations require specifying the THC and CBD content of products in most markets. Studies of cannabinoids like cannabinol (CBN) and cannabigerol (CBG) are underway, but more data is required before any reliable claims can be made about their medical significance. It remains to be seen if CBN and CBG percentages join other cannabinoid totals in product labeling in various jurisdictions.

In Canada, edible and cannabis beverage products are capped at 10 MG per package under the Cannabis Act, while allowances are much higher over the border. Meanwhile, in the US, hemp-derived CBD products - which are cannabis products that have less than 0.3% THC - are legal to grow and, aside from a few differences across states, are much more loosely regulated. There are a lot of nuances in cannabis regulation across the industry.
Both cannabis markets and regulations differ, but the one thing they have in common is careful product labeling, compliant packaging, and reporting back to a regulatory authority that ensures safe consumption. Finding cannabis filling, labelling and packaging solutions that lower the risk of regulatory non-compliance while optimizing production of cannabis products is key to the success of cannabis companies in every jurisdiction. Build your solution with ATG Pharma.
The importance of labeling
Mislabelling cannabinoids in products can be an incredibly taxing mistake for both consumer enjoyment as well as authorities, which is why clear labels, safe packaging, and standardized formulations are a base requirement for the legal and medical cannabis industry. Knowing the cannabis regulations in the states, provinces, and countries in which you operate is important, and it's the first step in optimizing your production to serve quality products to happy cannabis consumers.
Cannabis standards across the industry
When it comes to Consumer Packaged Goods of any kind, there are always strict regulations – whether it be the food industry, pharmaceuticals, or even beauty products – but especially so when it comes to a substance that was once prohibited worldwide. Since Canada legalized dried cannabis federally in 2018 and legalized edibles and topicals in 2019, the cannabis industry has grown to allow for amazing new types of products.
As more States legalize across the US and more countries legalize around the world, the compliance requirements will become more standardized from jurisdiction to jurisdiction. In the meantime, new products and new formulations come with some strict record-keeping requirements around quality assurance and plant production. The goal of the cannabis regulations? Create standardized, perfectly dosed products that keep consumers happy and safe and help them make informed purchasing decisions.
US Cannabis Regulations
Some US states with medical or recreational cannabis are governed by a labeling and packaging standard known as Metrc. Metrc, or Marijuana Enforcement Tracking Reporting Compliance, is a web-based, state-mandated seed-to-sale software platform that provides end-to-end tracking of the cannabis supply chain. This standard allows for each and every plant to be tracked, which is a requirement in some states, and allows for any potential negative outcomes to be pinpointed and addressed.
Metrc Compliant Optimizations
One piece of reporting to Metrc is an RFID identity and tracking inventory system, which essentially allows for electromagnetic reporting on specific plants back to regulatory bodies. This might capture information such as a tagged cannabis plants' weight. For many cannabis companies, the labeling and tracking of each plant, through to the harvest and packaging for sale, is done entirely by hand, risking user error which can lead to non-compliance.
This is where some of our cannabis equipment and automation solutions can help – our Next Generation Harvest Compliance solution, WayFast, offers a block scale and a hanging scale, both created to save time during harvest and reporting by digitizing plant tagging, weights, and reporting directly to Metrc. Send us an email to learn more.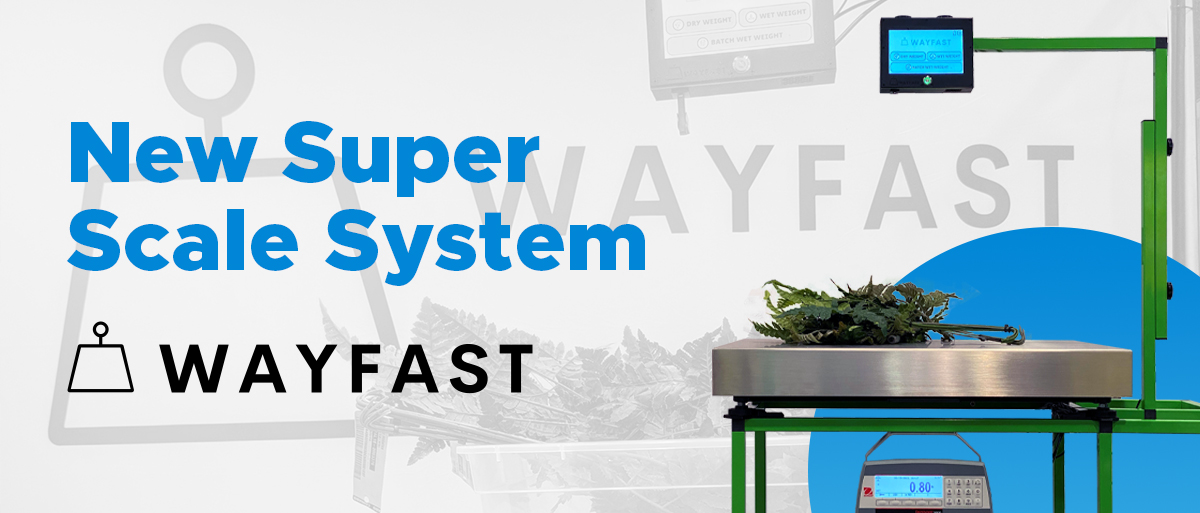 Gain a Competitive Edge with the ATG Advantage
Cannabis legalization is a global trend, and those businesses who capitalize in the ever-growing landscape will need a variety of skills and advantages to compete and gain a significant share of the market. One of the most significant advantages any company ought to strive to attain is a level of efficiency that is difficult for competitors to parallel. Improved quality of production and employing best practices in each level of the process from cultivation to packaging are crucial to making your operation run smoothly and quickly. Saving time, limiting human error, and getting the most accurate measurement and data all add up to a true competitive edge for your company.
Contact ATG Pharma today to learn more about how our equipment can help automate and optimize your cannabis grow and operations or build the equipment you need now.