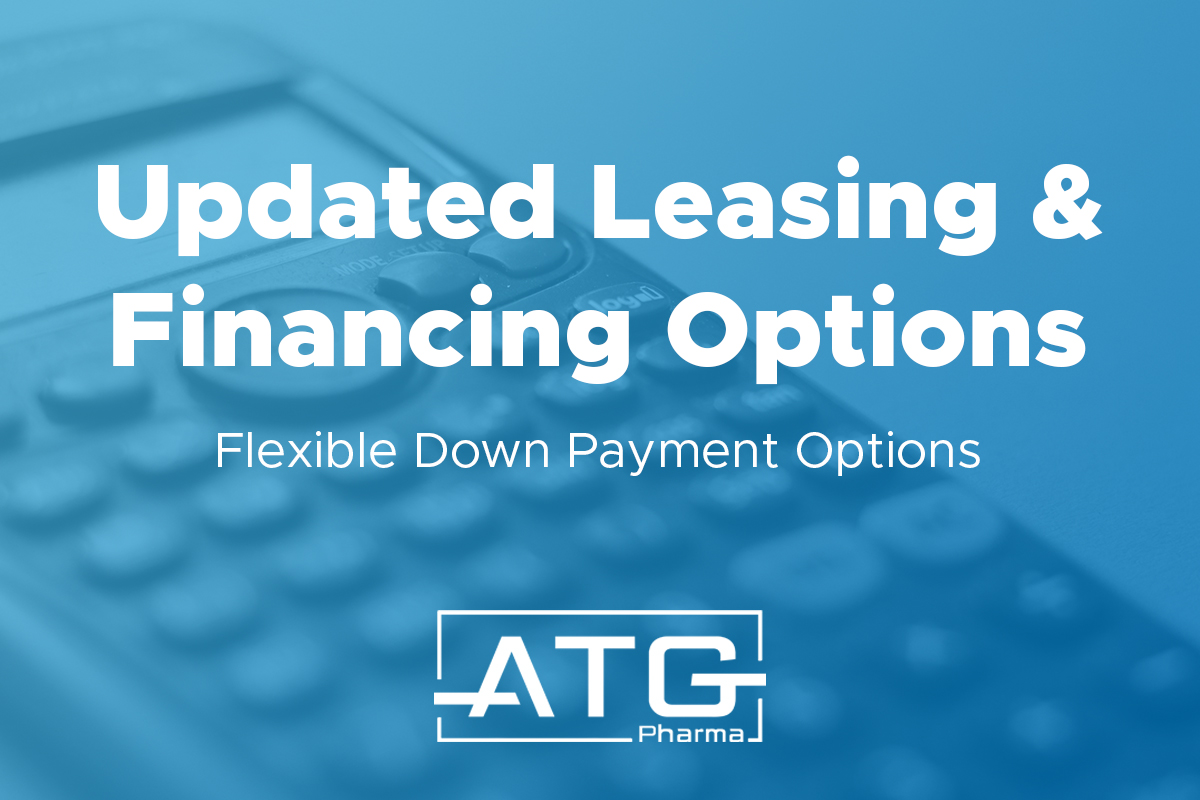 ATG Pharma is now offering financing options for our state-of-the-art equipment.
During these challenging times, we understand budgets are essential for businesses to manage their money. However, at ATG, we believe this doesn't mean you need to compromise your equipment quality. That is why we're excited to announce our new partnership with Bloom Financial Services to offer customized financing plans for small companies looking to grow their production. Wondering if financing is the right decision for your business? With this partnership, we hope our clients can continue to improve their competitive advantage with flexible payment schedules. If you're a business looking to invest in the latest technology and improve your production efficiencies, we encourage you to read the five frequently asked questions below.
Why is financing valuable and why should companies consider it?
The reality is, having the right tools to do your job is essential for a business to be successful. However, the costs to equip your business with the tools it needs can be overwhelming. That is where equipment financing can be the support a business needs to navigate purchasing equipment. Financing your equipment allows your business the opportunity and flexibility to extend large equipment payments over a period instead of paying all at once.


What transaction sizes do you finance?
ATG works with our clients to create custom production solutions. As custom as our robots are, we can find the custom financing solution for your business. Our partners at Bloomfield Financial offer various financing plans to implement a reasonable rate for you. By leasing, companies can utilize upgraded equipment without the expensive hit a company's cash flow.


What are your finance rates?
The finance rates Bloomfield offers are competitive with typical bank business loans.


Can companies add to a lease agreement? For example, they finance a RoboCAP through you one year, and the next, they need more equipment?
Yes, Bloomfield will work with you on a unique plan that suits your business goals.


How will I know what equipment would be the best choice to finance?
At ATG, we pride ourselves on providing an expectational customer service experience. That is why before you decide to finance, you will first meet with one of our talented sales representatives to review our filling machines and create a customized solution for your business. We offer free live demos to see our equipment in action, and you can always connect with our machine staff via zoom for a video tech support call or any questions you may have about our equipment!


We believe this new partnership with Bloomfield Financial Services gives companies with tighter budgets the buying power to upscale their business production. If you're a business looking to increase production efficiencies while staying within your budget, we would love to help you out. For more information or to see our machines in action book a live demo!
About Bloomfield Financial Services: Bloomfield Financial serves the small business community with financing products customized to make sense for our clients. Open for business in the Cannabis industry. They work diligently to keep our programs as 'current to market needs. Bloomfield Financial Services have been instrumental in finding clients the financing they need, and advice based on our industry intelligence.