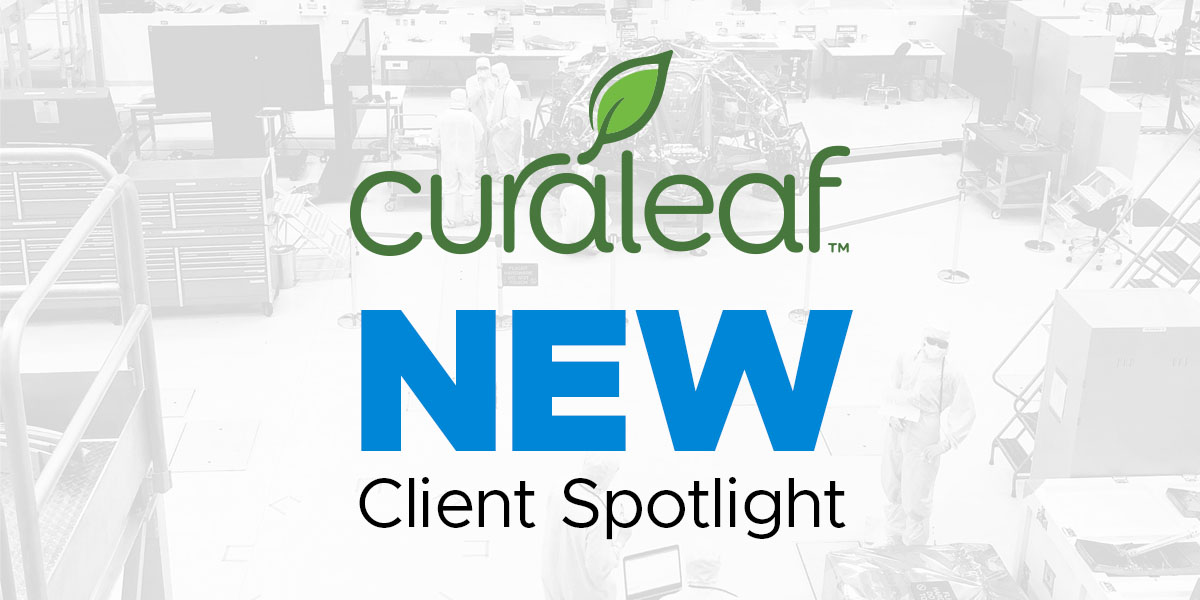 Welcome to ATG's Client Spotlight, where we interview clients who are leading in the industry.
Cannabis Company Curaleaf Holdings
We take pride in learning about our client's experiences while working with us and how they have grown with our equipment. We spoke with Ryan Still, Director of Operations at Curaleaf Holdings Inc., for our first Client Spotlight, at the Portland office.
Within the United States, Curaleaf Holdings Inc. Currently in 23 states, with 107 dispensaries, 23 cultivation sites, and more than 30 processing sites – employing over 5000 team members. We discuss his experience using ATG's equipment, how their operations are running, daily production outputs, and so much more.
Here are some of the highlights during our conversation:
What types of products are you responsible for? And what Kind of ATG Equipment are you using currently?
[Currently] mostly vape cartridges, but we do a little bit of everything. We do a lot of vape cartridges and then we do a little bit of everything else. We have one ATG Filler (RoboCAP RL-300) and Capper (MonoBlox Cartidge Press). We have two head fillers. All of it is pneumatically pressurized, with a heating jacket vessel and heated lines.
How does ATG equipment help your employees with their day-to-day jobs
We had great support from your team remotely (due to Covid ad travel restrictions), but we ended up learning a lot of stuff ourselves. There were some growing pains, but at this point, it feels very comfortable. The first time we cleaned it, it took the better part of two hours, now it takes around 20 minutes. Our waste when we first started was around 6%, which for us was a lot, but after several months of using this and dialing it in, most of our runs on the ATG [equipment] are now around 2 percent.
Would you say there was some ROI after purchasing the RoboCAP?
Yes, I did not need to be sold on the concept. I come from very highly automated industries. So, I'm used to people [staffing] the machines, you know, doing little maintenance, setting up, tearing down, cleaning, changeover. Doing quality checks, safety checks all day long.
When I first walked in, I was like...there's got to be a better way. So, I started doing my research, reaching out to different companies. ATG Pharma was one of them. I heard about you through Jupiter. What is the cartridge we use? Ok, whom do they recommend? They only had two guys they recommended, and [ATG] was one of them. So, I called up Mike (ATG's General Sales Manager) and got the conversation going.
What was your experience with our online resources and technical team to get your production up and running initially?
The thing that I always find separates good companies is that customer support piece. How do they follow up, how do they listen to their customers, how do they improve on the systems that they are using. You guys do a nice job.
Looking into the future, are there any new developments that customers can expect to see?
Before I started about six months ago. Our demand and actual production output were a little less than 5000 a day. Now if we get under 10,000, I'm like what happened. By the end of the summer, we are going to be regularly hitting 15-20,000, just depending on our [product] mix.

In Oregon, that gives us an incredible advantage to just overwhelm our competition. When we start dealing at that level of scale. There's so much more absorption of our overhead that our units can be sold cheaper, and we are still able to make a profit. We have some competitors in the area that every now and then will undercut us, and they lose margin, they lose money when they do that. They are just doing it to try to buy back the market share. It is nice to be able to buy all the market share you want and be profitable. Not have to take on in the gut just for sake of competition.
To learn more about Curaleaf, visit their website here.
Check out the full interview YT Video: