Why do employees leave their jobs? The question businesses within the Cannabis industry are grappling with. According to a report by analytics company Headset, 44% of budtender employees quit within the same year they were hired, and an additional 15% of employees departed the following year. The report states that nearly 60% of entry-level cannabis employees leave within their first two months on the job. Not only are these statistics alarming, but they also have a financial impact on your company's profit margins.

So, what is making so many cannabis employees jump ship from one job to another? According to the data, the industry's level of growth is contributing to this high turnover rate. Of course, growth is positive, but with rapid growth comes growing pains for employees to meet increasing product demand. The issue arises of how in-depth training can be overlooked, causing confusion, stress, and employees' lack of confidence.
Staff turnover not only absorbs your management team's time but also impacts financial bottom lines at an astonishing rate—estimates to replace a departing employee ranging up to 250% of that person's annual salary. When good employees leave, productivity sinks, morale suffers, and colleagues struggle with increased workloads. Paired with the training and on-boarding costs for new hires can create a complicated and expensive transition for cannabis businesses. What can your business do to fix this issue? Consider these three points to help your business reduce employee turnover.

Focus on Better Training:
That's right. It can be as easy as providing a more detailed approach to training your staff. The fact is, most adult employees are not experts in the cannabis production space. According to Cannabis and Cannabinoid Research, only 55% of cannabis employees report formal product training. When you start your onboarding process with a new hire, ask yourself, is our company providing good training on equipment, production practices, and troubleshooting- which are crucial elements to instill employee confidence. Not to mention it will ensure your filling production is running the most efficiently. We don't expect your company to be the experts at equipment operating. That is why businesses should consider what training, technical support, and troubleshooting solutions your equipment provider offers. For example, upon purchasing ATG equipment, companies have access to live demos, in-facility training days, and an exclusive library of training videos taught by our experienced technicians. Whether you have questions right away or years down the line, ATG's staff are always ready to help.
Proper Tools and Processes to Support Your Employees:
Employees who felt supported and valued by their employers have shown to stay at their company for longer. What causes them to leave is frustration with current processes and lack of tools to do their job effectively and efficiently. Are you investing in the right equipment to support your staff? Streamlining your production can play a key role in how effectively your employees are working. Semi-auto filling equipment allows your company to automate production while maintaining autonomy. A flexible and versatile filling production increases output ensures the product's quality and eliminates repetitive workplace motions that can cause issues down the line. Investing in the best equipment not only creates an efficient production line, but can create a better, and happier workplace for your employees.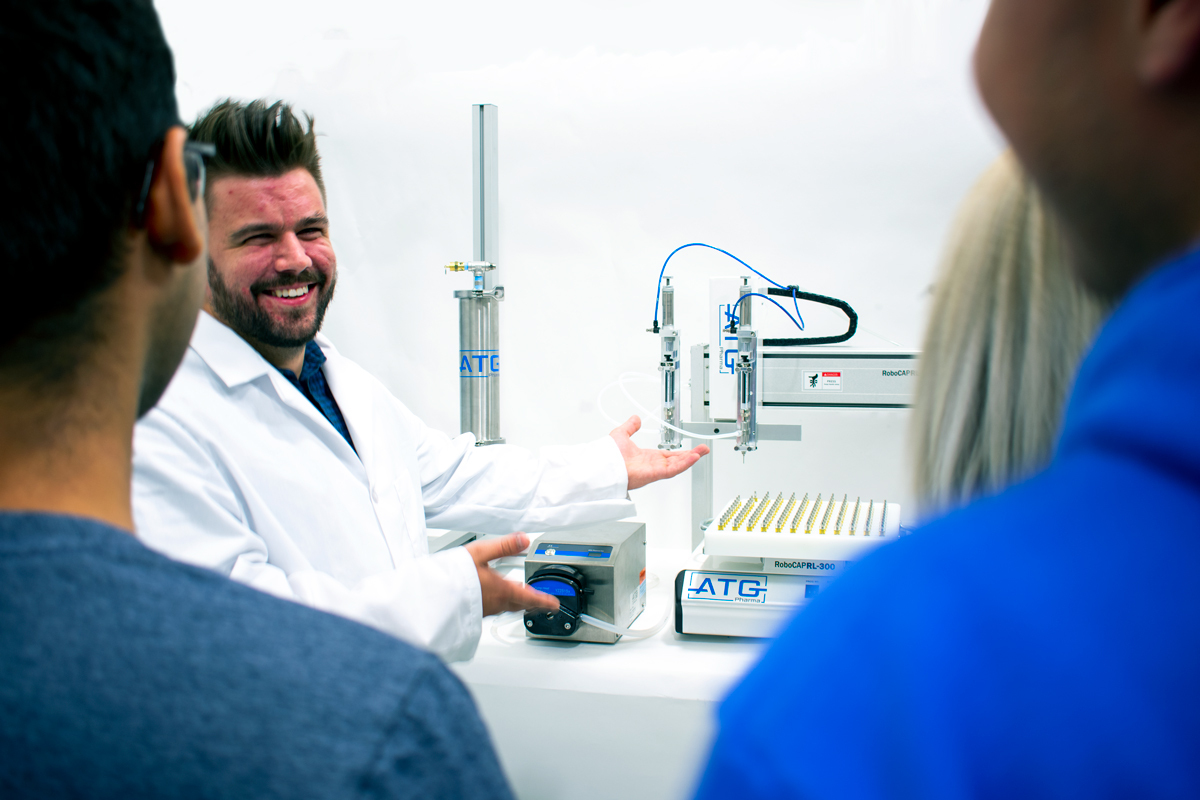 Create Value Around the End Goal:
When it comes to employees, stats suggest how they feel is often more important than what they earn. Staff wants to understand how their daily role is essential and valued by the company. When these elements are made clear, the employee will be more committed to an organization. Studies show employees are more motivated and engaged in their role when they know what their attributes are to the company's overall success. Whether you're filling 1200 -3000 bottles an hour or over 3500 cannabis gummies, sharing these reports could help employees see how their role contributed to successes with production outputs. Consider using these output reports for staff recognition.
There are many reasons for an employee to leave their job that are out of the company's control. Employees have career changes, move locations, schedule conflicts, etc. What businesses can control is how much it will cost them to train fresh staff. At ATG, the goal has always been to provide clients beyond the opportunity to fill their products. Through equipment that will maximize your capabilities and support your team within their production roles. This is why we feel it's beneficial for us to offer free video equipment training, world-class technical support, and an exclusive library of training videos. We want our clients to understand how to use their equipment in the most effective and efficient manner. If new hires join your team, simply browse through our training videos, or set up a virtual 1-on-1 tech call to answer all your questions.
For more information visit our Book a Demo page to speak with a sales representative today!