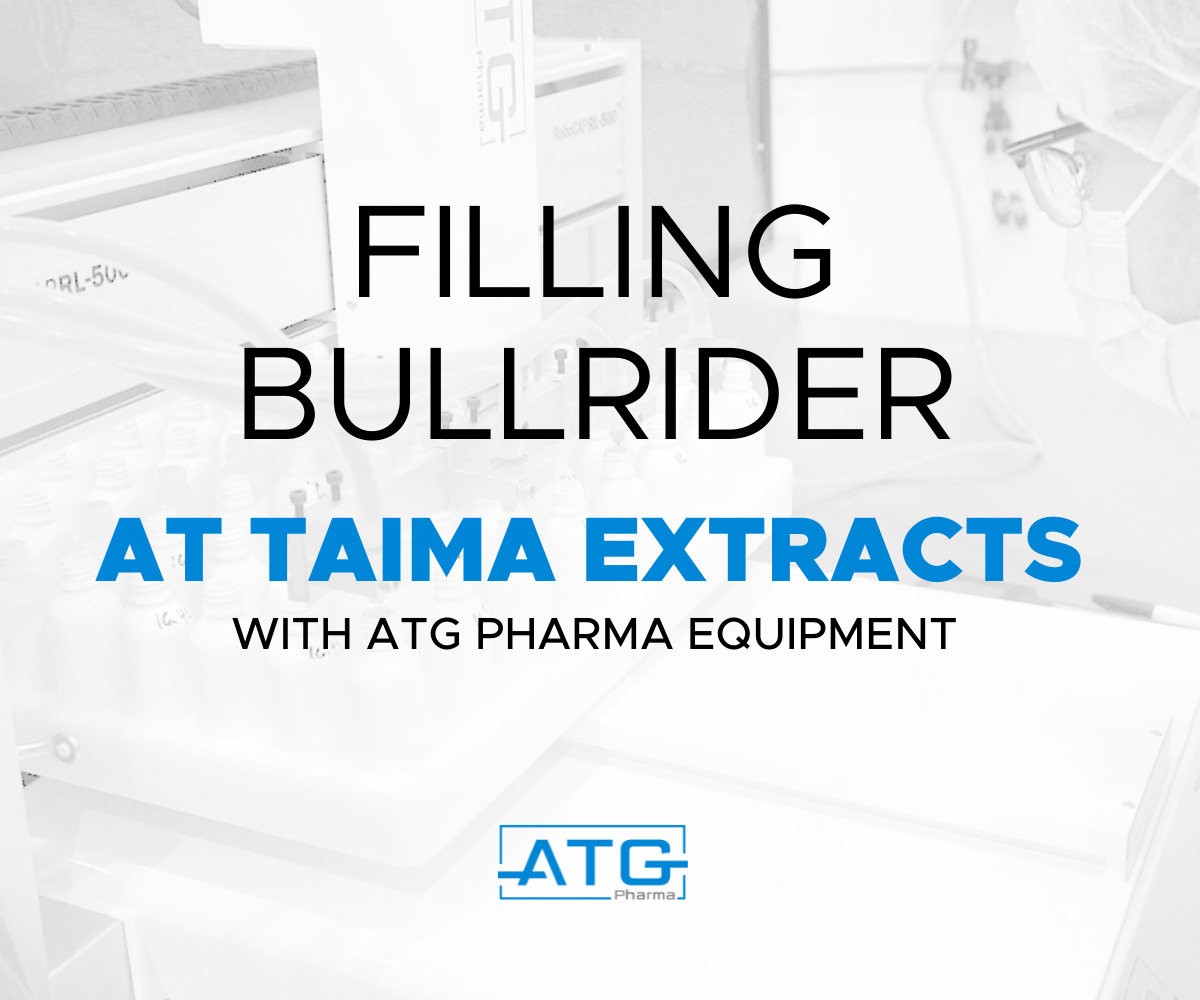 We caught up with the Vice President of Taima Extracts, Ryan Pinsky, to discuss the impact ATG Equipment has had on their business in the cannabis space. Taima Extracts is a family-owned and operated production facility devoted to providing single-source, high-quality, and consistent products to cannabis brands across Canada.
ATG Pharma's equipment has partnered with Taima Extracts to provide top-notch, customized automation and packaging solutions to support them in providing their clients with exceptional products efficiently.
Filling Cannabis Products with Efficiency
The Taima Extracts facility is designed to create the highest quality of cannabis distillates and isolates using ethanol extracts. The cannabis oil derivatives manufactured on site are then used in a variety of partner products, with a number of formulations and packaging. This means that Taima Extracts needs to be able to pivot and change their filling and packaging set-up depending on the oil-based cannabis product formulations and cannabis brands' needs.
For Drake's cannabis brand BullRider, tincture bottles are filled with CBG and CBD-dominant oil-based products before being labeled and capped and prepared for sale in the Canadian cannabis market. Taima uses ATG Pharma's RoboCAP 300 to fill 1200 to 1500 tincture bottles per hour, ensuring consistent quality products at a rapid rate. The high throughput capacity and production efficiency offered through ATG Pharma's automation equipment is one of the main reasons Taima Extracts chose to work with us.
Learn how ATG Pharma can help you with your production needs.
Streamlined Product Manufacturing
The ATG RoboCAP 300 saves a tremendous amount of time and energy for any products, especially where the formulations and product output vary. You can see how the production works for filling the BullRider tincture bottles.
Once filled, Taima's production team utilizes the ACT-100 Capper at a specific torque to ensure a complete seal, consistent with every bottle. The ATG Pharma ALR-1000 Labeler ensures that each bottle has a perfect-sized label with accurate placement. Then, the manufacturing process is complete and the product is ready to be shipped out. ATG is there every step of the way, helping Taima Extracts fulfill its customers' needs.

Fill Confident with High Service Standards
Another reason why Taima Extracts chose to work with ATG Pharma equipment is the support offered by the engineering and technical teams; we pride ourselves on the highest quality customer service, and it shows. This extra level of technical support for our filling partners is the difference in production efficiency.
"Chris and his team provide us with the ability to ensure that my staff and my team members are confident that they know that there will not be any hiccups. There will not be any issues with equipment. It's really the people that stand behind the products and manufacturing process that ensure that we can constantly release a quality product and offer continuity across all the products that we manifest." - Ryan Pinsky, VP of Taima Extracts.
At ATG Pharma, our high service standards ensure our cannabis production partners 'fill confident' every step of the production process. Taima Extracts and ATG Pharma are more than just an equipment supplier with high-quality customer service - we are partners in producing high-quality products efficiently. We look forward to supporting them as they continue to grow their business!
Learn more about how we help streamline production and book a demo with the ATG Pharma team today!