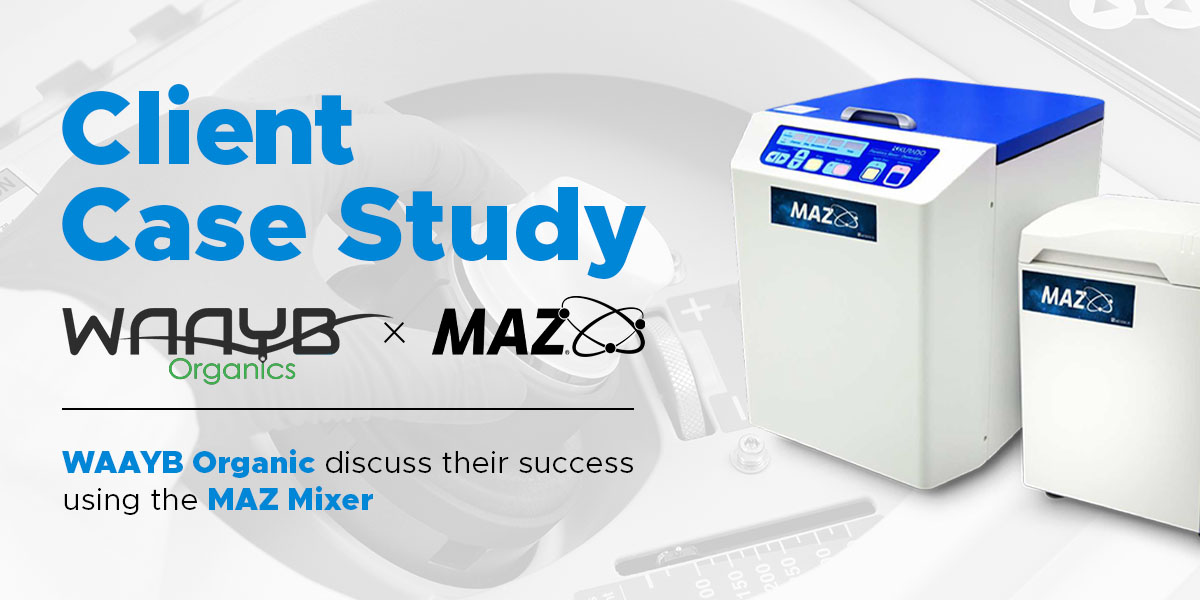 At ATG, we love nothing more than providing our clients with the filing solutions they need specific to their business. That's why we are thrilled to share more wins our clients are having after purchasing our equipment. Most recently, we had the opportunity to speak to the Chief Product Officer, Taylor Coomer from WAAYB Organics, to discuss their teams' successes and production experience since purchasing the MAZ Mixer.
The Maz Mixer Production Process
The MAZ Mixer performs mixing and deaeration simultaneously by revolving and rotating the container, resulting in enough power to produce highly homogeneous lenses. Here's what Taylor Coomer had to say about implementing the MAZ Mixer into WAAYB Organics' production processes:
Which size/volume Maz Mixer is being used? Is this sufficient?
WAAYB Organics is currently using the KK1000. The Maz Mixer accounts for around 10% of their business as most companies on the CBD sides are small, and therefore capacity is small.
What product types are being used with the Maz Mixer (oil, wax, distillate, cream)?
The MAZ Mixer is used for water-soluble formulations to incorporate CBD oil into powder, works for water-soluble formulations. They are currently doing water-soluble formulations and powdered formulations.
What was the solution before the Maz Mixer?
Before the MAZ, WAAYB Organics was mixed by hand for powders, using gamma-cyclodextrin (GPD). They would heat oil, heat GPD by hand which would take up to three hours. However, the MAZ Mixer reduced this process to 30 seconds. Then, add sugar, drip BPD, nine-speed, and nine rotation for 30 seconds. They are using the MAZ Mixer for topicals as well when adding oils into topical products. This takes 3-5 minutes, depending on the load, where the mixing time before the MAZ was around 2-3 hours.
Streamline your Mixing Process
Streamline your mixing process with the new MAZ Mixer. The best mixing solution for speed and product consistency. If your product consists of oils, topicals, balms, or powders, this is the ideal machine for your production. The MAZ Mixer will improve your efficiency, consistency, and profitability as it only takes a few minutes per product. Book a FREE Demo with our sales team to learn more.