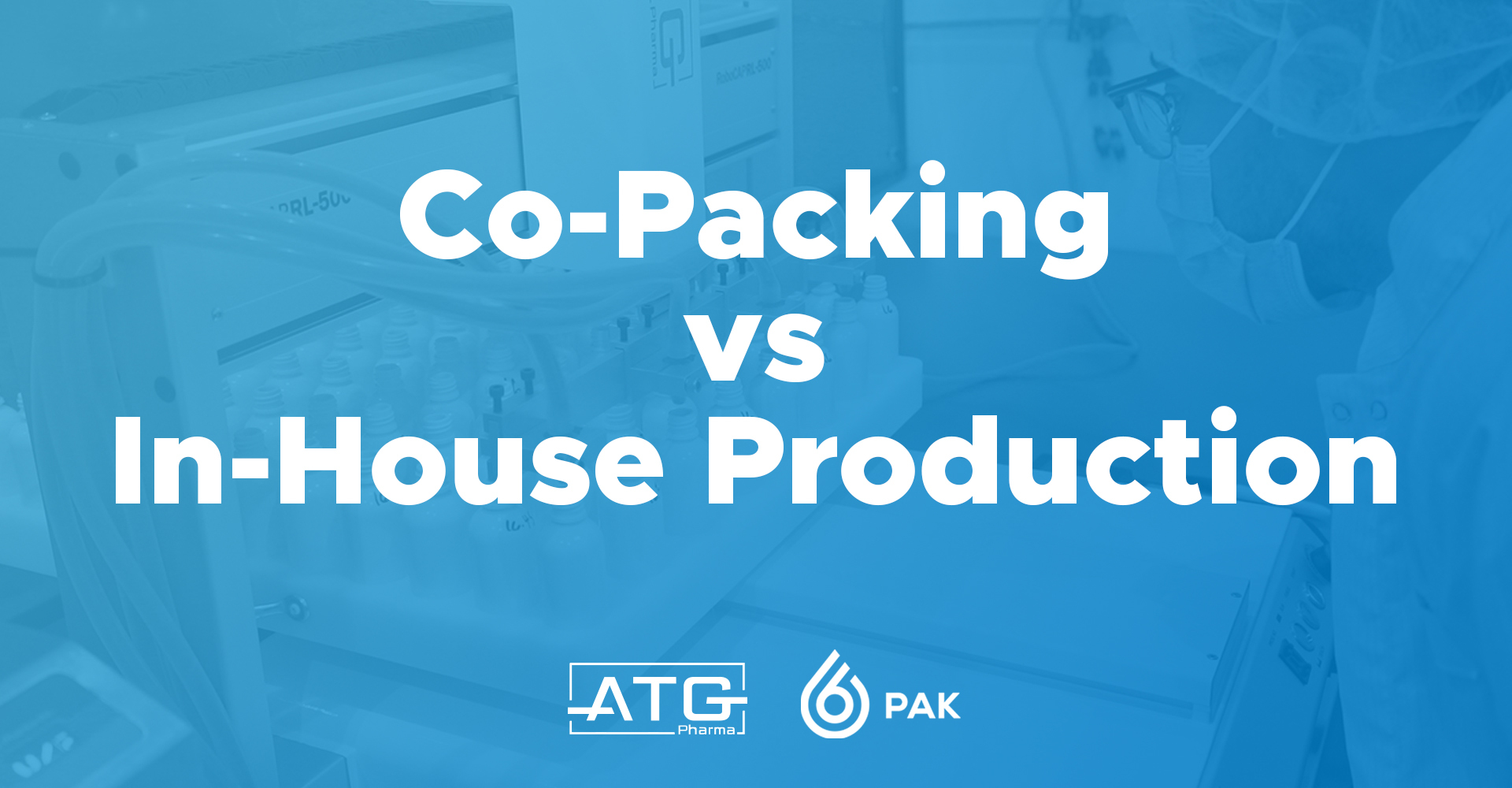 Whether you're a new company bringing its first product to the market or a well-established business trying to make your packaging process more efficient, the way you fill and package your product is crucial to your company's success. There are two main types of production processes to consider, contract packaging and in-house production. Contract packaging is the process of hiring a third-party company to handle the filling and packaging of your product into your hardware. In-house production is purchasing all the equipment and hiring staff to run your entire production.
Deciding between the two depends on details specific to your company. The availability of resources, expertise, short-term and long-term budget implications, and the facility's overall efficiency. Before choosing your production process, consider these points to understand which option is the best fit for your business.
Contract Packaging
Less upfront investment capital required:
With contract packaging, companies have a unique opportunity to outsource their production with a less costly and more efficient solution than packaging products in-house. One of the many benefits of co-packing is the speed to start production. Co-packers have already laid the groundwork. They have invested in the necessary facilities, equipment, teams, and certifications. Therefore, they are ready to tackle the challenges of co-packing and distribution head-on. If you're a business looking to launch a new product line and want a speed-to-shelf solution, co-packing provides you with the best advantage. Not only will they provide a more efficient production line, but outsourcing your production means additional costs on expanding your facility are removed from the equation. Your business has the flexibility to free up the time used on production and instead focus on other aspects of your company.
Capitalize on Co-packers knowledge and expertise:
A lot of times, your relationship with a third-party contract-packager is about more than just packing your products. In many cases, these contract packagers have years of industry experience and knowledge to benefit your business. Leverage off their industry expertise to ensure you have the best competitive edge and guidance on filling, packaging, and distribution channels. Work with a contract packaging company that will create a comprehensive solution for your unique product fulfillment. Not to mention, they do this day in and day out. Your business can skip the time and money it takes to provide equipment training or troubleshooting to invest it into other aspects of your business.
Faster Production Launches and Quick Ramp Up
A new cannabis production line is exciting, but most companies do not know their demand yet or the number of product SKUs. With new products can come uncertainty on volume sizes, proper filling equipment, and packaging procedures. Take the guesswork out of it all with outsourcing a contract packaging company that knows the best production solution for your products. Whether you are starting with small-batch productions, having the ability to scale output rapidly and keep up with your growth can be extremely valuable for your business. Co-packers have the facility, team, and equipment in place to help you ramp up production when your business grows!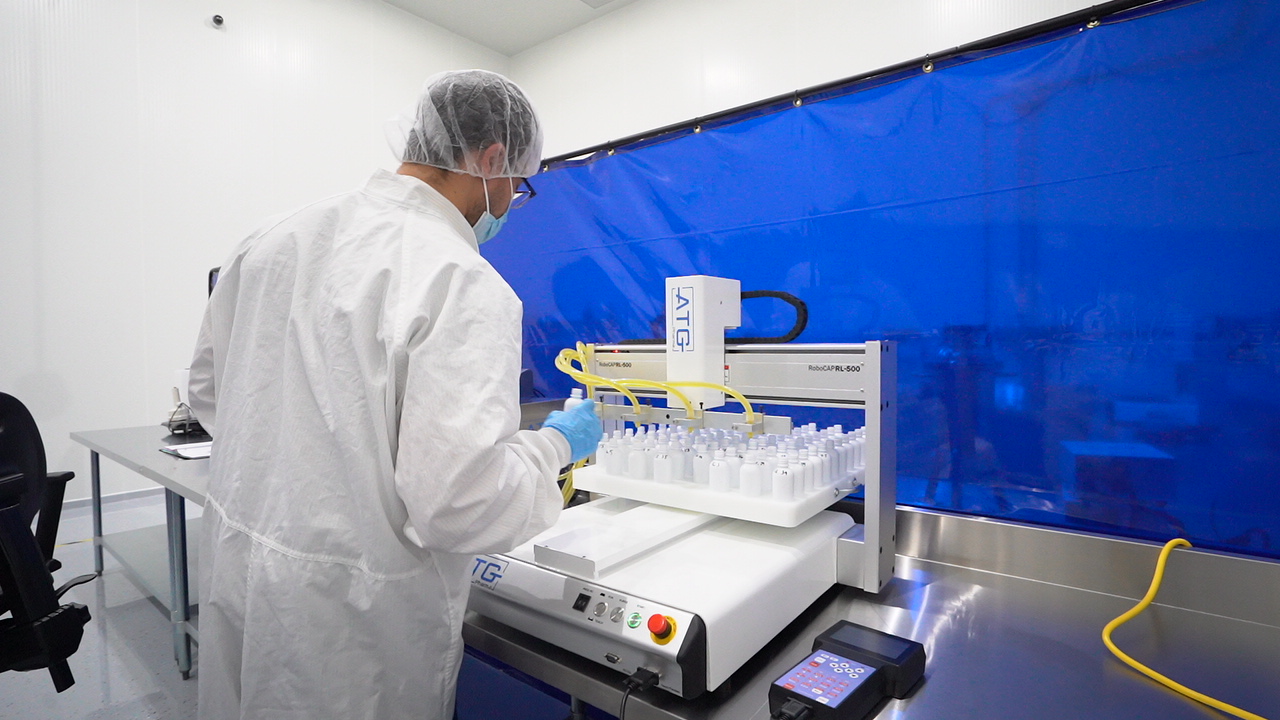 Production taking place at 6Pak Solutions Inc. ATG's contract packaging arm, 6Pak offers flexible contract packaging solutions, strategically partnering and operating out of Licensed Facilities.
In-house production:
Control of production:
One of the biggest benefits companies will see right away with in-house production is complete control over the product output. Keeping production in-house gives your business all the flexibility to change your product and production practices at any time. Having your product in-house means the minute your company expects an immense growth in orders, you can easily plan for production spikes by having enough operators, products, and equipment to meet demands. Something that would take more time and external communication efforts to implement had you been working with an outsourced company.
Quality Assurance and Improvements:
Although co-packers adhere to the regulation standards, you ultimately are the controller of your fate with in-house production. Not only with production timelines and products, but this allows you the full opportunity to quality check each product with operators on your team. Nobody understands your product better than your team. Therefore, you can rest assured that your product is in the best hands understanding the exact discrepancies to look for with in-house production. Having a front-row seat to your product can give many business owners the assurance they need to feel confident with the output. Not to mention, should any issues with product quality arise, the line of communication is shortened in-house ensuring your business remains agile with the ability to react to market demands quickly.
Cost-effective, with no limitations:
Let's face it. Production equipment is expensive. For many businesses, the initial equipment investment can be the most daunting aspect of in-house production. The trick here is to look at it long-term. By investing with an in-house production line, you are essentially building a foundation to grow. While outsourcing appears less expensive initially, in-house manufacturing is often a more cost-effective avenue in the long-term. Once the equipment is paid, your production strictly generates revenue, thus becoming a long-term cost-saving as your long-term cost per unit is less.
Additionally, in-house production allows you the opportunity to pivot your production at any time, without minimums or restrictions that may arise from contract packagers. So, perhaps you want to start filling a new product? Purchase the additional upgrades for your machine and start filling right away. Your product deadlines become directly on your terms. This creates the opportunity to test new products on the market with pilot runs from your production instead of dealing with outsourcing contracts' commitment.
Conclusion
Deciding between the two can be challenging, as both serve an important and valuable place for businesses. Many can relate to the pros of each production process. That's why we suggest implementing a hybrid approach. This is the idea of utilizing both production options to limit risk and ensure maximum profit!
If you are looking to launch new products, but don't have the facility or equipment, explore contract-packaging to test your product on the market. This gives you the time and flexibility to generate enough capital to bring production in-house eventually.
Or perhaps you're an established company with in-house filling production already operating smoothly. Chances are, you've nailed down your bench-top automated production line. Now, what about starting a new line? This is where you could utilize co-packing to launch new products without expanding facility space or turning the focus on a new filling line. Contract packaging allows you to fill confidently with existing product lines and then leverage the equipment, tech support, and industry expertise contract packagers offer.
For more information on custom co-packing, please visit https://www.6pak.ca/ or if you're ready to bring your production in-house, visit https://www.atgpharma.com/ to see your equipment options!