Solutions that can save your business hundreds of thousands of dollars annually.
The cannabis market is growing faster than almost any other industry right now. With the rapid growth and commercialization of cannabis products came hundreds of startup cannabis companies with a wide variety of product offerings.

It's easy to say that the cannabis industry is quickly getting very competitive, leading companies to search for new ways to innovate and automate their supply chain. The faster they can move cannabis products from seed to sale, the better.
When it comes to moving cannabis down the supply chain, there are many steps required, depending on the type of cannabis product your company is making and distributing. While marketing is increasingly competitive, the barriers to entry into the cannabis industry are also being reduced. There are dozens of newcomers to the cannabis industry, and new licenses are issued daily. We believe that the key to staying competitive and relevant in the highly competitive cannabis industry is automation. In this article, we will go over the best cannabis automation equipment for your business.
Packaging & Filling

Automated Filling Machines
Companies choosing to offer products requiring precise filling measurements are in luck. ATG Pharma offers both semi-automatic and automatic filling equipment with our RoboCAP machine. Unlike many other automated filling machines, the RoboCAP is a benchtop filling machine that can fill pharmaceuticals, cosmetics, vape cartridges, bottles, lotions, balms, capsules, and confectionary items.
One of the issues with product filling systems would be scaling to your business. In the cannabis industry, tinctures, cartridges, and other products made from cannabis extract are growing quickly in popularity. By automating the filling procedures for these products, your company can output more products per hour and enjoy heightened production efficiency.
As consumer buying habits shift from purchasing dried cannabis flower to concentrates, oils, and edibles, automating the production of these products would give you a much-needed head start in the highly competitive cannabis industry. As demand is rapidly increasing, automated filling machines allow you to meet that demand.
Solution:
An automated filling machine can help you reduce waste from spillage, deliver a consistent product with accurate filling, guarantee product viscosity, and even ease the cleaning process between different product productions.
In addition to the plethora of product filling capabilities that the RoboCAP system offers, it also easily scales with your business operations while always providing you with a consistent dispense.
ATG Pharma also offers semi-automated filling machines with the A-1. An excellent solution for companies with smaller budgets but still want to invest in a semi-automatic cannabis filling solution.


Automated Cannabis Product Packaging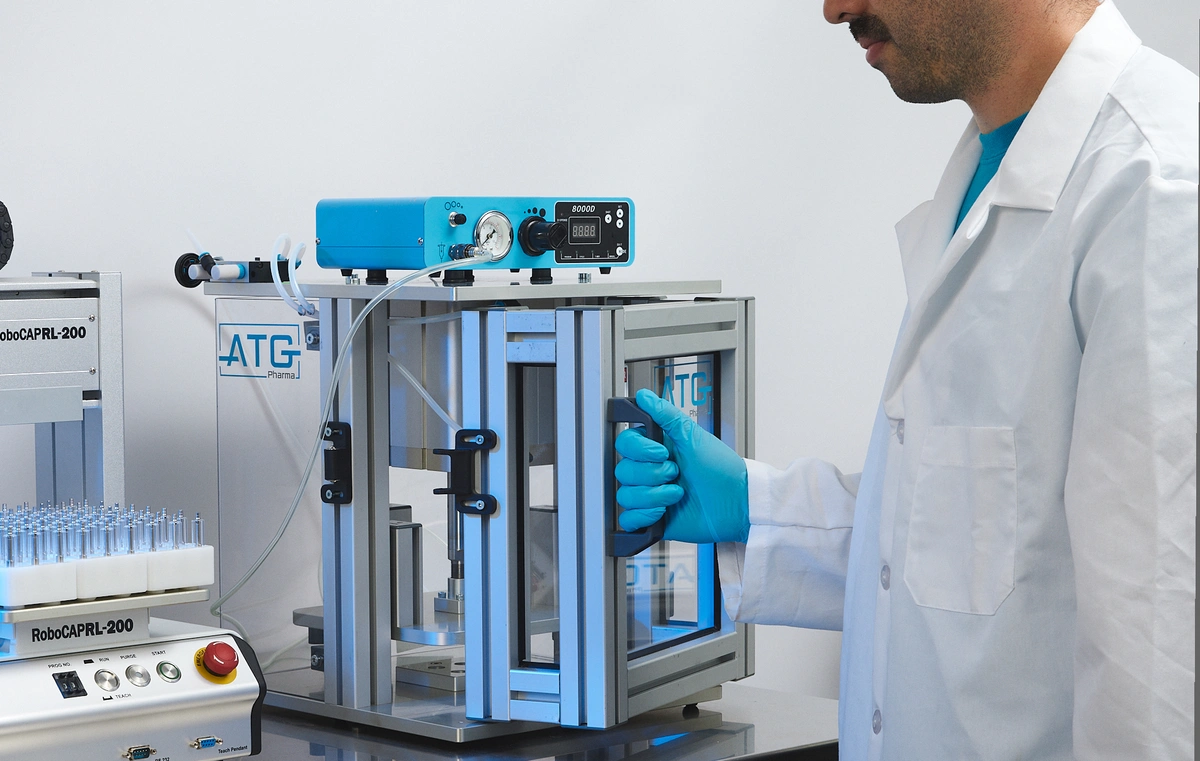 Before distributing your cannabis products to your wholesalers or your customers, you need to package your final product. The packaging process can include a wide variety of tasks like bottle capping processes, or filling and capping vape cartridges of different sizes. It can take a lot of work to manually be counting out capsules or hand-labelling your product. These steps can soak up a lot of time and money if they aren't automated and scaleable to your business.
Solution:
If you are offering cannabis beverages or tinctures, you should know that ATG Pharma offers a semi-automated bottle capping solution for you with the ACT - 100 Capper. It is the perfect piece of equipment for torquing caps onto bottles or tinctures. This machine has an interchangeable chuck head to accommodate different cap types.


Cannabis companies looking for a way to automate their vape cartridge capping processes can use the MonoBlox product suite from ATG Pharma. This includes the MonoBlox, the MonoPress, and the MonoTray. This is the perfect setup for filling and capping press-top cannabis vape cartridges. If you are worried about cartridge sizes, feel relieved to know that the MonoBlox is custom cut to the cartridge size you need. You can expect minimal clogging or oxidization when used together, giving you a better final product.


Labelling is another part of the packaging process that can be automated with ATG Pharma equipment. The ALR-1000 Labeler can be used to place your label on rounded bottles accurately. This machine has adjustable handles for fast switching between product labels and bottle sizes.


Another automated packaging equipment that can speed up your packaging processes is a capsule counter. Just like pharmaceutical products, cannabis capsules must be counted to ensure each bottle has the same amount. The ATC - 100 Counter can automatically count tablets, and soft gel capsules for you, before dispensing them into bottles. This machine can significantly improve production efficiency and ensure exact product counts every time. When mass producing cannabis capsules, this machine can save you countless hours of counting and dispensing.
Gummy Manufacturing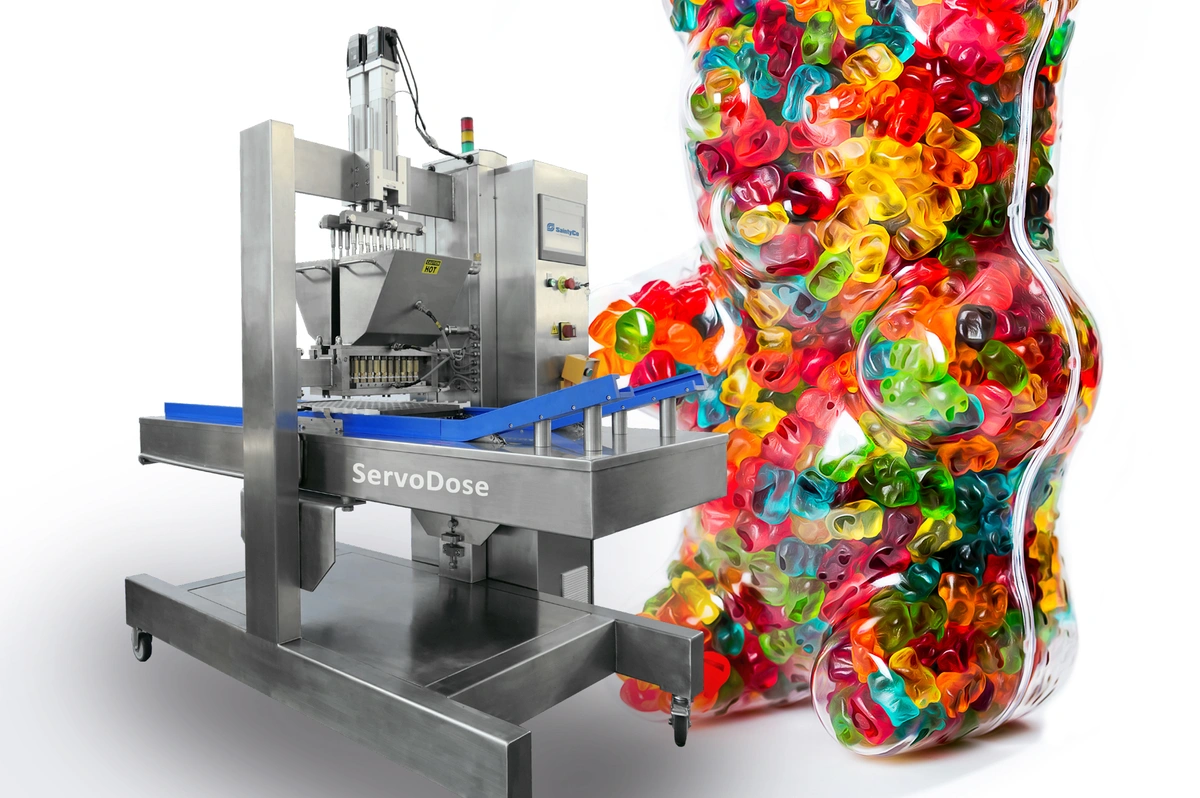 When it comes to edibles, gummies are king.
Gummies accounted for nearly $1 billion in retail sales last year, capturing more than 70% of the category's share across six recreational cannabis markets. Led by gummies, edibles keep pace with growth of overall US cannabis market.
Gummies are delicious and fun, but they're not easy to make. Fortunately, Sainty co. has developed a gummy depositor that makes it fast, easy, and affordable to create your own gummies for mass production. A gummy depositor is a machine that deposits the ingredients that make gummy candies. These can come in various sizes from a tabletop gummy depositors to large sizes of gummy depositors for much larger production needs.
The process of making gummies is a three-step process: depositing the ingredients in molds, cooking the gummies, and packaging them.


Depositing Gummies

There are different types of depositors, such as automating pouring, automated, and dosed depositing – ranging from 8K per hour upwards to over 30K per hour.
A fully automated depositor will pour the mixture without the need for human action to move the nozzle. Semi-automated depositors will either need human hands to move their nozzle or have another mechanical part operated by a human.


Cooking Gummies & Cooling Gummies

Ingredients are cooked in a preheated kettle until reaching a desired temperature, which has a direct impact on the final product's properties. These ingredients in a heated mixture is called a slurry. After the slurry reaches the desired temperature, it is removed from the kettle and placed in a storage mixing tank to end the cooking process. Here, the final custom ingredients are added, which can include color, flavor, actives, and citric acid.


Packaging

Filling bottles and pouches with gummies can be a challenge. There are special handling requirements that need to be met to successfully fill bottles or pouches with this oddly shaped and sometimes oily candy. One of the biggest challenges of bottling gummies is getting the bottles or pouches filled correctly. Multi-bottle filling systems can eliminate the challenges of bottle filling gummies. Automatically counting and filling bottles to the correct measurement and amount every time.


Solution
In order to create more efficiencies in your process, it is necessary to automate certain steps above. If you're a producer who's looking for ways to increase efficiency, automation is the way to go. But how do you know if you need a system that can be integrated with all of your processes?

You might not, if you're a smaller producer. But if you're looking to scale up and get more volume, investing in automation can help you do just that—and it can save time and money in the long run!
When you're in the manufacturing business, you need to make an investment that will yield a return. That means choosing the right equipment to match your facility's size and scope of work, and projected growth.
The worst thing you can do is buy too much or too little equipment for current and future operations—you don't want to be stuck with a unit that doesn't match your needs. In most cases, it's better to purchase one with the potential to scale your production to meet all levels of customer demand.

Companies like One Supply focus on depositing automation and packaging of gummies and have been leaders in the space for years. Their line of Sainty Co. Gummy filling and manufacturing products can provide you some peace of mind in building your gummy production business.
Automating Cultivation
The first step before selling cannabis products is to have high-quality cannabis flowers. No matter your company's product, it starts from a cultivated cannabis plant. When cultivating cannabis, it is essential to know that cannabis is a dioecious type of plant, meaning cannabis plants can be either male or female. Female cannabis plants create significantly more cannabinoids and, when pollinated, will create the seeds for future plants. However, male plants are mainly used to create pollen, allowing female plants to produce seeds.
Depending on the type of cannabis plant, the growing process can take anywhere from ten weeks to twelve months. There are many complexities to the growing process, growers want to have complete control over the lighting, humidity, watering, and air conditions that the plants will be subject to during the growing and maturing period. Once the plant is ready to harvest, it needs to be cut down, weighed, and dried. There is significant time and energy that goes into the labour of processing cannabis. Drying can take two to seven days, depending on air conditions and the plant's moisture.
Solution:
This is where you can start using automation equipment to speed up the data recording process drastically. Using equipment like the WayFast cannabis cultivation scale, you can quickly weigh over 1200 cannabis plants per hour and get them organized into a database. This scale will automatically detect RFID plant tags and record your data in a database to keep track of every plant in your production before and after drying.
Plants lose a significant portion of their weight during the drying process; weighing cannabis plants before and after drying can give you valuable insight into how much cannabis you will have available. A key benefit to using the WayFast scale over other cannabis products is that you don't need to scan each tag; the machine will automatically detect your tagged plants. This saves you plenty of time weighing each plant and gives you valuable insight into product variation and weight loss.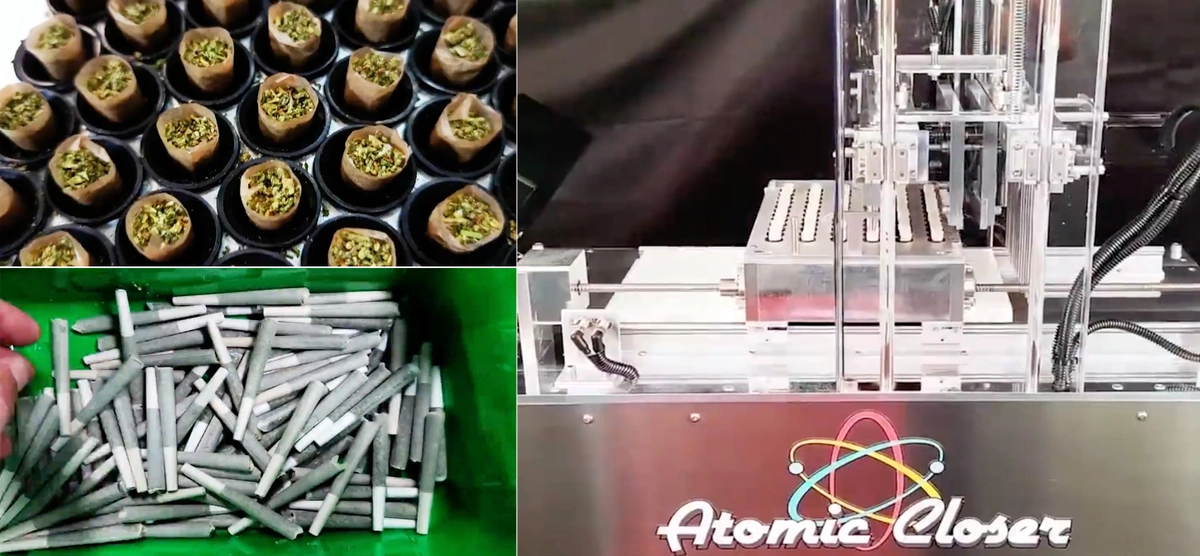 Pre-Rolls
One of the oldest cannabis products on the market are pre-rolls. However, rolling by hand takes a huge amount of time compared to automated preroll solutions. It's not practical to have any pre-rolls done by hand, as the human hand would cramp up after a certain number of rolls.
You would ideally want 1000 pre-rolls an hour, and a human could maybe roll a fraction of that. You want a machine that can scale to your facilities, and that can roll a variety of cones or straight tubes like a human could.
Solution:
Automatic pre-roll machines like the ones from PreRoll-Er are specially designed to be hyper-optimized for making cannabis pre-rolls. Their machines are proven to handle up to 1500 prerolls per hour giving you the capability to replace over a dozen operators while being compatible with cones and straight tubes, the two most popular types of pre-rolls.
For businesses looking for a great benchtop pre-roll solution, STM Canna offers both the Rocketbox 2.0 and the Mini Rocketbox+. Their machines are perfect for small to large facilities that are looking to scale up their production efficiency. Both machines are capable of packing multiple pre-roll sizes to meet your production needs. The machines from STM Canna are a great option for companies that want to greatly increase their pr-roll production and save time measuring out cannabis to fill each preroll as you can fill the top tray and be all set.