It's no secret cannabis-infused gummies have quickly become one of the most popular products in the industry. With the influx of consumer demand, manufacturers need to be equipped with the proper machines to accurately fill and package their products. Before starting your cannabis gummy filling production, consider these five steps to ensure you are getting the most out of your production line.
1. Growth with your Supplier
There are many options when searching for filling equipment, but not all of them are in your best interest. Consider who you are choosing as your machine supplier. Do they have industry experience? Will they provide you with the proper tools and training to be set up for success? Can you get on a call and receive information from a trusted expert in the industry? As industry experts, a good supplier should provide free consulting and product information to ensure you have a successful and efficient production line.
Let's face it. There is always a learning curve and programming involved with machines. Having a readily available supplier for technical support calls, virtual demonstrations, and training opportunities provides the assurance you need to feel confident with your purchase. Nothing is worse than the excitement of receiving your equipment, stalled by lack of training and operation directions. Not to mention downtime costs.
2. Capital/Expenses
Businesses looking to thrive in this extremely competitive market need to build flexibility and redundancy into any successful production plan. Beware of spending hundreds of thousands of dollars on a single machine that may only run a few times a month. Fully automated machines can only fill one product. Once production is complete, the machine remains dormant until there's another order for that specific product. However, bench-top equipment has more versatility with no downtime due to the ability to change nozzles and product tanks to fit various product lines. More product, more profit.
A new production line like gummies is exciting, but most companies do not know their demand yet or the number of product SKUs they may have. Businesses should consider starting their production with machines that provide versatile and economical solutions. A hidden cost to gummy product is the ancillary items you need in your kitchen. Have you considered what trays to use? While traditional aluminum trays are popular, there have been new innovations that drastically cut costs and time to your filling production.
In addition to being more economical, stackable cooling trays are designed to increase production outputs. These trays fit two "half pan" gummy molds perfectly and also fit directly onto an automatic depositor. No longer forcing production operators to wait for the product to set, you can now remove the tray and allow it to cool while the following is filled. The production no longer needs to stop after each deposit.
Here are a few points to consider for comparing Traditional Pans and Racks to Self-Stacking Cool Trays
Traditional Pans and Racks disadvantages:
Aluminum oxidation stains and blackens hands

Stainless steel is hefty and expensive

Metal pans are loud, denting, can lead to sharp edges and very

uncleanable

Racks are heavy, bulky and limited to their stacking height, wasting your cooler and curing room spaces

Since 2013, Aluminum as food production, utensil and cooking surface has been limited and even banned among 6 EU countries, including Germany, in consideration of neurotoxicity and potential connections to breast cancer, dementia and Alzheimer's Disease. While these studies carry conflicting evidence, many nations are now proactively avoiding Aluminum as food contact, cooking, or utensil as a precautionary measure.
WRH Cooling Trays advantages:
Self-stacking design with locking corners for faster stacking, handling and mobility

The exclusive non-stick polymer has been specifically formulated for pharma/candy production

Does not crack, chip, rust, or dent with a 5-year warranty against breakage

Made in the USA from our FDA grade alloy polymer that can be sanitized at 180F, autoclave or even steam sanitized

Airflow open sides and optional vented bottom deck for up to 50% faster cooling/drying times

Up to a 70% space savings over pans and racks (can stack trays to ceiling height)

NSF listed sanitary design features radius corners, no hard to clean crevices, fins or rolled edges

4 popular height trays featuring 2.5", 3", 4" or 5" stacking heights and optional vented deck or solid bottom design
3. Upgradability and Scale
While there are many options on the market, something to consider is the ability to quickly upgrade your production. A machine that can be upgraded by simply adding a nozzle or larger product tank will ensure your business stays on top of its production demands, with minimal downtime. While many believe a manual option is a good starting point, businesses can become stuck as there are no upgrades that can be made to improve efficiencies. Therefore, the most beneficial option is to have a machine that can fill your current order and have the flexibility to double production with the ease of nozzle and tank attachments. An option that is not available with manual systems. With a semi-auto filling machine, production begins right away, while still leaving room to scale. Companies have the option to buy a secondary machine and then, as your volume increases, easily add more machines to your line. A completely custom solution that scales with your volume numbers.
4. Precision and Deposit
high viscosity, time-sensitive products like gummies need an accurate and efficient filling system to optimize production. Therefore, understanding the correct mixer and vessel need to use will ensure all products are evenly deposited. Make sure your machines apply the proper heating to your product to ensure a consistent deposit each time. We recommend the Volumetric Filling Deluxe (VFD). Designed explicitly for infused cannabis edibles, the VFD nozzle can accurately dispense 2 to 9-gram products with +/- 2.5 % filling accuracy, at a rate of up to 4800 deposits an hour. This option is fully compatible with your current or new RoboCAP model. The VFD Gummy filling nozzle can upgrade to 4 nozzles, with or without heating.
5. Space
Of course, you'll need a place to host your machine, but this is more important than you may think. With the cannabis industry's rapid boom, large facilities are hard to come by. Most facilities have a wide variety of operational responsibilities, such as cultivation, extraction, formulations and finally, packaging. Which means space is tight. Having a machine that is lean with flexible layout options are extremely important. Fully auto machines must have a linear footprint, allowing for no flexibility or wiggle room in a facility. With bench-top filling equipment, you have a lean machine that can be completely customizable and flexible to suit whichever lab layout you're in. This allows for an easy transition into your new gummy production or changeover to a different product line.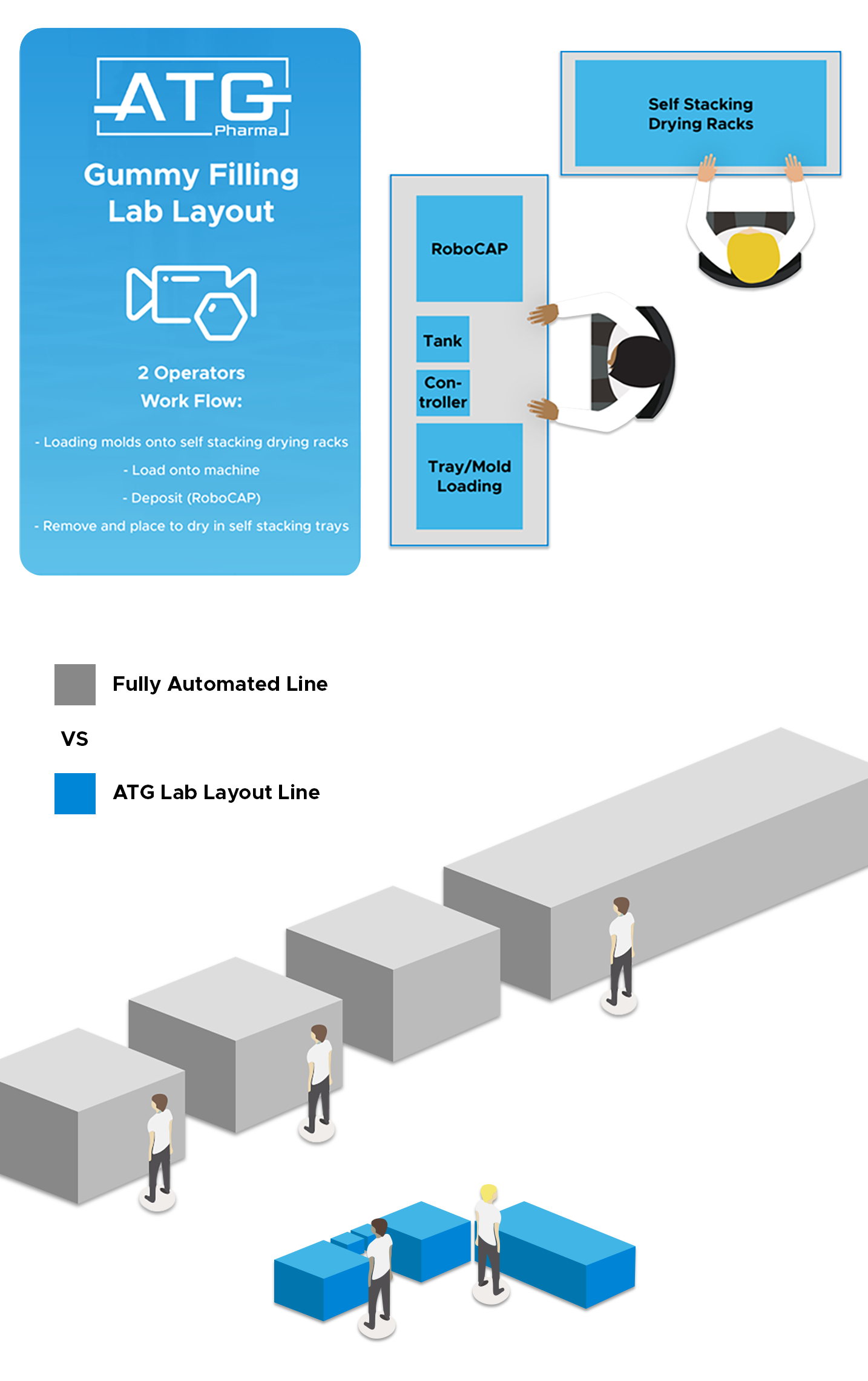 If you've found value in the steps above, you can learn more about flexible filing solutions here. Book a free demo to see these lean and versatile machines in action, or speak with a trusted, experienced technical sales rep to get your gummy filling started today.