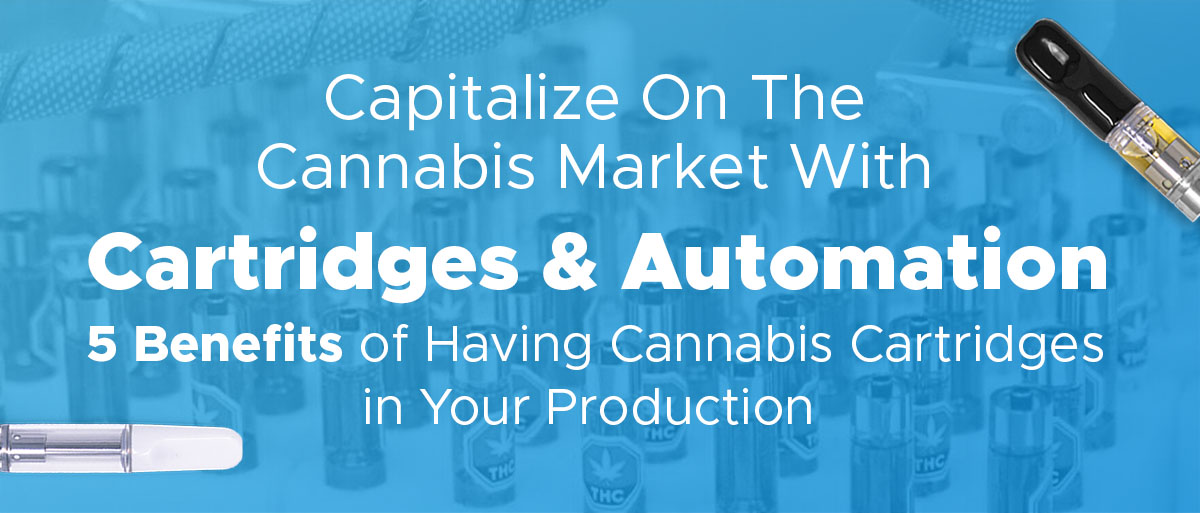 The shift from raw, unprocessed cannabis flower buds to cannabis vape cartridges is in full effect. According to Grand View Research data, the market size value for cartridges is USD 7.43 billion, with a revenue forecast of USD 40.25 billion by 2028. Not only does the market indicate exponential growth, but production-wise, cannabis cartridges can make a significant profit for your business if production costs remain low and demand for products continues to increase. So, as the fastest-growing category of cannabis oil products, cartridges can be highly beneficial to add to your product lineup. Here's why:
What is a Cannabis Cartridge?
First things first, cannabis cartridges are pre-filled with a gram or half-gram of cannabis oil. The oil contains various combinations of cannabinoids and terpenes extracted from cannabis. There are many different cartridges for you to choose from (Trusted hardware manufacturers linked below), depending on your personal preference. The growing popularity began when consumers started to compare cartridges to other methods of consumption. Cartridges seem to offer a safer, more convenient, and cleaner alternative.
5 Benefits of Cartridges for your Production

Ease of Production (with the proper equipment)
With the proper equipment and processes, introducing cartridges to your production line and getting your new product on the market is painless. The key is to invest in good equipment. Semi-automated production equipment allows your company to automate production while maintaining autonomy. This not only creates an efficient production line, but it provides the ability to support increased demands. Cannabis Cartridges are also one of the fastest products to fill, cap, and package during production because there is essentially no wait time for the product itself. Once filled, it is then ready to be packaged and sent for distribution. Something that is not always the case for other cannabis products such as gummies, balms, or slaves, which take additional waiting time to solidify before the packaging process can begin.
Profit in Cartridge Production
Look at the prices around you. Half-gram oil cartridges can range from $20-$45 and a THC cartridge filled with one gram can cost anywhere from $15-$75. Consumers are happy to pay a larger price to cart refills as it offers them a more discrete and 'safer' alternative to consuming cannabis. Plus, with cost-effective equipment made to increase throughput, your number of units sold goes up and so does your profit. Now you have a product with low production costs and retail for a premium price. Not to mention it allows you to scale with demand. The most suitable setup we suggest is the MonoBlox and MonoPress system is designed to optimize production for fast oxidizing/leaking products. The system allows for quick capping of nine to fifty cartridges within 45 seconds. The MonoBlox system allows operators to start the capping process as the machine fills the remaining cartridges. They are significantly reducing the chances of oxidation or other quality issues.
Longer Shelf Life
Are you thinking about selling your cartridges at a dispensary? No problem, Cannabis cartridges have a much longer shelf life than other products such as the cannabis flower, which loses its taste and odor over a period. In many cases, it depends on how the flower is dried and cured by the grower. However, compared to vape pen cartridges, the taste and odor are not lost, no matter how long they are on the shelf. And if you're planning to distribute your product to retail stores across the country there is less of a worry as the quality of the product will remain intact. While other product types may require a shorter shelf-life window or specific temperature to stay solidified.
Variety in your Product Type
Don't be afraid to change it up! With the industry rapidly growing, new innovations are coming to the market all the time. Even solely with cartridges, there are ways to switch things up. Cannabis cartridges are available in a variety of cannabis strains. This allows you to customize your users' experience based on their experience level and preference. Plus, there are a ton of different types of hardware to choose from. While some are simpler, others may have unique features that allow for a more enhanced consumer experience. And of course, your business has the flexibility to integrate brand colours and design elements that best suit your company and stand out in the market.
Broad Consumer Range
With cannabis products becoming legal in more countries, the consumer base is growing and because cannabis cartridges are the most popular products on the market, now is the time to capitalize on them. Consumers are happy to pay a larger price for products that offer them a more discrete, safe, and accessible alternative to consuming cannabis.
Hardware Manufacturers We Trust
Streamline your Processes
With the influx of demand in the cannabis market, bringing products to the market, fast and affordability is top of mind. Before starting your cartridge production, consider what equipment you are using to ensure you are getting the most out of your investment. Adapting semi-automation equipment into your production will help streamline your processes and create a more cost-effective tool for your operators. ATG's RoboCAP provides a filling solution completely customized to your business's needs.